(OnlineEd®) – The Consumer Financial Protection Bureau's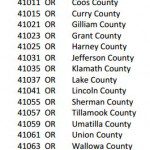 ("CFPB") Escrow Requirements under the Truth in Lending Act rule will go into effect on June 1, 2013. The rule, known as Escrows Rule, requires certain creditors to create escrow accounts for a minimum of 5 years for higher-priced mortgage loans, but exempts higher-priced mortgage loans made by certain small creditors operating predominantly in rural or underserved counties. For purposes of the Escrows Rule, the CFPB defines rural counties by using the USDA Economic Research Service's urban influence codes. Underserved counties are defined by data collected under the Home Mortgage Disclosure Act.
You can download a preliminary list based on the proposed revisions here.  A final list will be available before June 1, 2013.
###
If you have any questions about the list of counties or the new mortgage rules, please contact us at CFPB_reginquiries@cfpb.gov or (202) 435-7700.
If you have questions or would like to learn more about OnlineEd®, please visit www.OnlineEd.com. If you would like information about OnlineEd's® Compliance Management System solution developed for the mortgage industry, please visit www.InlineEd.com or telephone (866) 519-9597.