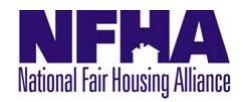 (National Fair Housing Alliance – WASHINGTON, DC) – Today, the National Fair Housing Alliance (NFHA) and the Fair Housing Continuum in Florida announced a federal housing discrimination complaint against Bank of America Corporation, Bank of America, N.A., and BAC Home Loan Servicing, LP. This complaint is the result of an undercover investigation of Bank of America that found the financial giant maintains and markets foreclosed homes in White neighborhoods in a much better manner than in African-American neighborhoods in Orlando, FL and Charleston, SC.
Today's complaint was filed with the US Department of Housing and Urban Development and is part of an amended complaint NFHA and six member agencies filed in September that looks at how Bank of America has differently maintained and marketed properties in White, African-American and Latino neighborhoods across the country.
Bank of America is one of the largest American banks that maintains and sells foreclosed properties and is one of the world's largest financial institutions.
View the complete press release
####