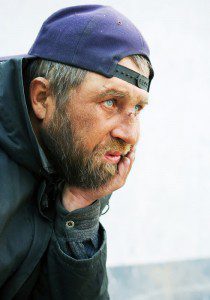 (WASHINGTON – U.S. HUD) – U.S. Housing and Uban Development Secretary Julián Castro announced HUD's latest estimate of homelessness in the U.S., noting a continued general decline and specifically among veterans and persons living on the street. HUD's 2014 Annual Homeless Assessment Report to Congress finds that there were 578,424 persons experiencing homelessness on a single night in 2014. This represents an overall 10 percent reduction and 25 percent drop in the unsheltered population since 2010, the year the Obama Administration launched Opening Doors, the nation's first comprehensive strategy to prevent and end homelessness.
"As a nation, we are successfully reducing homelessness in this country, especially for those who have been living on our streets as a way of life," said Castro. "There is still a tremendous amount of work ahead of us but it's clear our strategy is working and we're going to push forward till we end homelessness as we've come to know it."
Key Findings
On a single night in January 2014, state and local planning agencies reported:
578,424 people were homeless representing an overall 10 percent reduction from January 2010.
Most homeless persons (401,051 or 70 percent) were located in emergency shelters or transitional housing programs while 177,373 persons were unsheltered.
Veteran homelessness fell by 33 percent (or 24,837 persons) since January 2010. On a single night in January 2014, 49,993 veterans were homeless.
Chronic or long-term homelessness among individuals declined by 21 percent (or 22,937 persons) since 2010.
The number of families with children experiencing homelessness declined 15 percent (or 11,833 households) since 2010. The number of unsheltered families fell 53 percent during that same time period.
The number of unaccompanied homeless youth and children was relatively unchanged overall, at 45,205. There was a 3 percent decrease in those who were unsheltered.
Read more on homeless data reported on a state and community level.
###
For more information about OnlineEd and their education for real estate and mortgage brokers, visit www.OnlineEd.com.
This article was published on September 18, 2014. All information contained in this posting is deemed correct and current as of this date, but is not guaranteed by the author and may have been obtained by third-party sources. Due to the fluid nature of the subject matter, regulations, requirements and laws, prices and all other information may or may not be correct in the future and should be verified if cited, shared or otherwise republished.