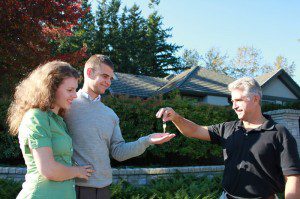 (Jeff Sorg, OnlineEd) – Zillow is predicting 2015 will be a big year for home buyers, as more millennials enter the market because of rising rents. "Home value appreciation will continue to cool down, from roughly 6 percent now to around 2.5 percent by the end of 2015. But rents will see no such slowdown, and will continue to grow around 3.5 percent annually throughout 2015. As renters' costs keep going up, I expect the allure of fixed mortgage payments and a more stable housing market will entice many more otherwise content renters into the housing market" says Zillow chief economist, Dr. Stan Humphries.
Humphries says that builders will be constructing more, less expensive homes to meet the demands of millennials (under the age of 35) as they cause demand to move toward the lower end of the market and become the largest group of buyers by the end of 2015, overtaking Gen X (35-50 years old).
"Since the recovery began in earnest in late 2012, buyers have really taken it on the chin, forced to contend with low inventory, tight credit, bidding wars and intense competition from investors and all-cash buyers. But next year we'll start to see things really turn around. More inventory will continue to come on line, putting the competitive pressure on sellers for a change. This more balanced market will be smoother sailing for everyone, both for buyers in search of a competitive advantage, and for sellers who turn around and become buyers themselves," says Humphries.
Zillow's top five market picks for first-time buyers in 2015 are:
Pittsburg, PA;
Hartford, CT;
Chicago, IL;
Las Vegas, NV; and
Atlanta, GA.
###
For more information about OnlineEd and their education for real estate brokers, principal brokers, property managers, and mortgage brokers, visit www.OnlineEd.com.
For more information about Zillow, please visit their web site at www.Zillow.com.
  This article was published on December 4, 2014. All information contained in this posting is deemed correct and current as of this date, but is not guaranteed by the author and may have been obtained by third-party sources. Due to the fluid nature of the subject matter, regulations, requirements and laws, prices and all other information may or may not be correct in the future and should be verified if cited, shared or otherwise republished.