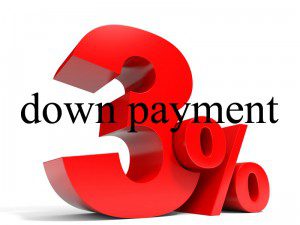 (Jeff Sorg, OnlineEd) –  Today, Fannie Mae (FNMA/OTC) announced an option for qualified first-time homebuyers that will allow for a down payment as low as three percent.  Building upon Fannie Mae's successful lower down payment program offered through state Housing Finance Agencies, the 97 percent loan-to-value ratio (LTV) option will expand access to credit for qualified first-time homebuyers that may not have the resources for a larger down payment. These loans will meet Fannie Mae's usual eligibility requirements, including underwriting, income documentation and risk management standards. These loans will require private mortgage insurance or other risk sharing, as is required on purchase loans acquired by the company with greater than 80 percent LTV.
"Our goal is to help additional qualified borrowers gain access to mortgages," said Andrew Bon Salle, Fannie Mae Executive Vice President for Single Family Underwriting, Pricing and Capital Markets. "This option alone will not solve all the challenges around access to credit. Our new 97 percent LTV offering is simply one way we are working to remove barriers for creditworthy borrowers to get a mortgage. We are confident that these loans can be good business for lenders, safe and sound for Fannie Mae and an affordable, responsible option for qualified borrowers."
With today's announcement, homebuyers can purchase a home under Fannie Mae's standard offering or its My Community Mortgage® product with a three percent down payment if at least one co-borrower is a first-time buyer. In addition, eligible homeowners who wish to refinance their Fannie Mae-owned mortgage but do not qualify under the Home Affordable Refinance Program (HARP) can refinance their loan up to the 97 percent LTV level under a limited cash-out option. Lenders must use Fannie Mae's Desktop Underwriter® tool when evaluating mortgage applications for this product. Today's announcement can be found here.
Fannie Mae has implemented prudent risk management practices to ensure that loans the company acquires are appropriately underwritten, including mortgages with lower down payments. These include essentially eliminating risk-layering on purchase money loans, requiring income documentation to avoid "low-doc" or "no-doc" lending, and requiring income verification.
As noted, private capital will be in the first loss position. Mortgage insurers and other risk sharing partners will have to conclude that these loans are prudent to make in order for these loans to be originated and delivered to Fannie Mae in the secondary market.
Fannie Mae has also worked to provide lenders with greater clarity on what circumstances would result in a loan repurchase request. Some lenders have said that uncertainty around these requests has led to them curtailing mortgage availability. This new clarity is intended to help lenders make mortgages to more creditworthy borrowers.
In addition, Fannie Mae is making new tools available to help lenders better evaluate risk on loans. For example, early in 2015 the company will offer Collateral Underwriter®, which gives lenders access to the same appraisal review tool that Fannie Mae uses. Collateral Underwriter will be offered at no additional cost to Fannie Mae's customers.
 ###
For more information about OnlineEd and their education for real estate brokers, principal brokers, property managers, and mortgage brokers, visit www.OnlineEd.com.
  This article was published on December 9, 2014. All information contained in this posting is deemed correct and current as of this date, but is not guaranteed by the author and may have been obtained by third-party sources. Due to the fluid nature of the subject matter, regulations, requirements and laws, prices and all other information may or may not be correct in the future and should be verified if cited, shared or otherwise republished.