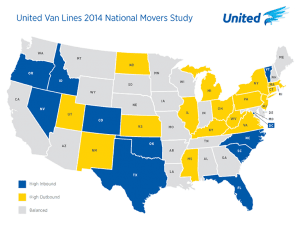 (Jeff Sorg, OnlineEd) – For the third consecutive year, Oregon holds on to its title as "Top Moving Destination" according to the United Van Lines 2014 National Movers Study. The study, which tracks customers' migration patterns state-to-state during the course of the past year, found that Oregon is the top moving destination of 2014, with 66 percent of moves to and from the state being inbound — nearly 5 percent increase of inbound moves compared to their 2013 study.
New Jersey is at the top of the list for outbound move states, with 65% of its moves leaving the state.
United has tracked migration patterns annually on a state-by-state basis since 1977. For 2014, the study is based on household moves handled by United within the 48 contiguous states and Washington, D.C.
###
For more information about OnlineEd and their education for real estate brokers, principal brokers, property managers, and mortgage brokers, visit www.OnlineEd.com.
For more information about United Van Lines, please visit their web site at: http://www.unitedvanlines.com/
This article was published on January 6, 2015. All information contained in this posting is deemed correct and current as of this date, but is not guaranteed by the author and may have been obtained by third-party sources. Due to the fluid nature of the subject matter, regulations, requirements and laws, prices and all other information may or may not be correct in the future and should be verified if cited, shared or otherwise republished.