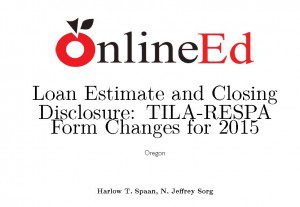 To help spread the word about the new Real Estate Settlement Procedures Act and Truth In Lending Act forms and how to use them, online education provider OnlineEd has put together an extensive free course full of information that real estate brokers should know in order to help their clients with the TILA and RESPA disclosure process. This free version of their course is available here.  For Oregon real estate brokers, OnlineEd is also offering a continuing education version of the course that qualifies for 3 continuing education credit hours for real estate license renewal. This version of the course normally sells for $18 but is available now for just a nominal $3 processing fee. This version of the course is available here. Use discount code JeffsBlogRT to get this special $3 CE offer.

###
For more information about OnlineEd and their education for real estate brokers, principal brokers, property managers, and mortgage brokers, visit www.OnlineEd.com.
  This article was published on April 17, 2015. All information contained in this posting is deemed correct and current as of this date, but is not guaranteed by the author and may have been obtained by third-party sources. Due to the fluid nature of the subject matter, regulations, requirements and laws, prices and all other information may or may not be correct in the future and should be verified if cited, shared or otherwise republished.