Millennials, or America's youth born between 1982 and 2000, now number 83.1 million
By Jeff Sorg, OnlineEd Blog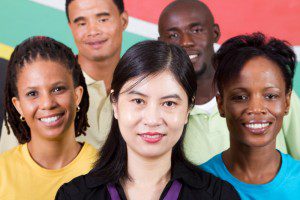 WASHINGTON (July 25, 2015) – Millennials, born between 1982 and 2000, number 83.1 million and represent more than one quarter of the nation's population. Their size exceeds that of the 75.4 million baby boomers, according to new U.S. Census Bureau estimates released today. Overall, millennials are more diverse than the generations that preceded them, with 44.2 percent being part of a minority race or ethnic group (that is, a group other than non-Hispanic, single-race white).
Even more diverse than millennials are the youngest Americans: those younger than 5 years old. In 2014, this group became majority-minority for the first time, with 50.2 percent being part of a minority race or ethnic group.
Reflecting these younger age groups, the population as a whole has become more racially and ethnically diverse in just the last decade, with the percentage minority climbing from 32.9 percent in 2004 to 37.9 percent in 2014.
Five states or equivalents were majority-minority: Hawaii (77.0 percent), the District of Columbia (64.2 percent), California (61.5 percent), New Mexico (61.1 percent) and Texas (56.5 percent). Among the remaining states, Nevada is the closest to crossing this threshold, with a population 48.5 percent minority. More than 11 percent (364) of the nation's 3,142 counties were majority-minority in 2014. Five reached this milestone during the year beginning July 1, 2013: Russell, Ala.; Newton, Ga.; Eddy, N.M.; Brazoria, Texas; and Suffolk city, Va.
###
For more information about OnlineEd and their education for real estate brokers, principal brokers, property managers, and mortgage brokers, visit www.OnlineEd.com.
 All information contained in this posting is deemed correct as of the date of publication, but is not guaranteed by the author and may have been obtained by third-party sources. Due to the fluid nature of the subject matter, regulations, requirements and laws, prices and all other information may or may not be correct in the future and should be verified if cited, shared or otherwise republished.