Most of the changes are basic clarifications, although there are a few significant issues addressed
By Jeff Sorg, OnlineEd Blog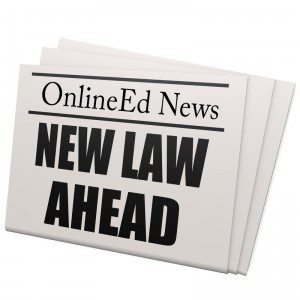 (December 22, 2015) –  Senate Bill 390 updates the Oregon Landlord-Tenant Act. Most of the changes are basic clarifications, although there are a few significant issues that were addressed:
Notices now expire at 11:59 P.M. on the last day of the notice period rather than at 12 midnight.
The landlord is authorized to charge noncompliance fees to tenants for failure to clean up the waste of service and/or companion animals from a part of the premises other than the dwelling unit. This addition to the law is intended to encourage owners of service animals to clean up after their pets just like any other tenant.
Penalties for keeping an unauthorized pet that is capable of causing damage to people or property may be imposed after a 48-hour warning notice. Initial noncompliance fees are limited to $50, and subsequent fees for an unauthorized pet can increase to a maximum of $250.
Assessments by a homeowner's or condominium association can be passed on to tenants if they are imposed for moving into or moving out of a unit or property located within the association. To levy these fees the landlord must establish the fees in a written rental agreement at the beginning of the lease term, and the landlord must give a copy of the assessment distributed by the association to the tenant before or at the time the landlord charges the tenant.
As of January 1, 2016, landlords must provide a reasonable written summary of the exception to the renter's liability insurance requirement. This typically addresses low-income tenants or tenants using vouchers or living in subsidized housing. Basically, this rule exempts these tenants from carrying rental liability insurance.
New building codes require that new apartments be constructed with fire sprinklers installed. Tenants may not remove, obstruct, or tamper with a sprinkler head used for fire suppression.
A landlord is permitted to bill tenants for utilities and public service charges that are charged to the landlord by the public service. A public service is defined as municipal services that relates to the dwelling unit such as street maintenance, transportation improvements, public transit, public safety, and parks and open space. Public service charges do not include real property taxes, income taxes, business license fees, or dwelling inspection fees. A landlord must provide 60 days written notice to a tenant before the landlord may amend an existing rental agreement to require a tenant to pay a new service charge that was not in existence at the time the rental agreement was entered into.
As of January 1, 2016, funds received from tenants must be applied in the following order:

Outstanding rents from previous periods
Rent for the current period
Utility or service charges
Late rent payment charges
Fees or charges owed by tenants or other fees and charges related to tenant caused damages and other claims

A landlord is required to provide an emergency or secondary means of exiting a bedroom in addition to the main door of the room, and allows a tenant to terminate such a tenancy on 72 hours' notice unless the landlord cures the noncompliance, compensates for damages, and pays a penalty for failure to cure.
###
For more information about OnlineEd and their education for real estate brokers, principal brokers, property managers, and mortgage brokers, visit www.OnlineEd.com.
 All information contained in this posting is deemed correct as of the date of publication, but is not guaranteed by the author and may have been obtained by third-party sources. Due to the fluid nature of the subject matter, regulations, requirements and laws, prices and all other information may or may not be correct in the future and should be verified if cited, shared or otherwise republished.