Grocery stores and home values are definitely related
By Jeff Sorg, OnlineEd Blog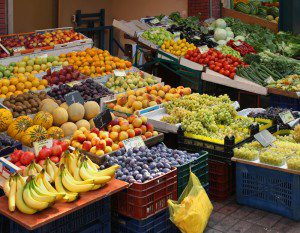 (January 25, 2016) – According to Zillow your local grocery market has a lot to do with what happens in your local housing market.
Specifically, Zillow found that homes grow more rapidly in value if they are closer to a Trader Joe's or Whole Foods. Between 1997 and 2014, homes near the two grocery chains were consistently worth more than the median U.S. home. By the end of 2014, homes within a mile of either store were worth more than twice as much as the median home in the rest of the country.
"The grocery store phenomenon is about more than groceries," said Rascoff, Zillow Group CEO. "It says something about the way people want to live – in the type of neighborhood favored by the generations buying homes now. Today's homebuyers seek things in neighborhoods that weren't even in real estate agents' vocabularies a generation ago: walkability, community, new urbanism – and maybe we should add words like sustainable seafood and organic pears."
Zillow analyzed the values of millions of homes near dozens of Trader Joe's and Whole Foods to conclude that grocery stores and home values are definitely related.
According to the Zillow analysis, the median home within a mile of a future Whole Foods store appreciates more slowly than other homes in the same city before the store opens. In the months before the stores open, the trend reverses and flips, so that after the stores' opening dates, homes near Whole Foods appreciate more quickly than other area homes.
Homes near future Trader Joe's locations were appreciating at close to the same rate as other homes in the same city before the stores opened. After the opening date, however, Zillow found a clear boost in home appreciation rates. Two years after a Trader Joe's opened, the median home within a mile of the store had appreciated 10 percentage points more than homes in the city as a whole over the previous year.
The analysis clearly shows that homes near the stores appreciate more quickly than homes in the city as a whole. That means the two brands are very good at choosing locations that will appreciate faster in the future, or are
Zillow is a registered trademark of Zillow, Inc.
###
For more information about OnlineEd and their education for real estate brokers, principal brokers, property managers, and mortgage brokers, visit www.OnlineEd.com.
 All information contained in this posting is deemed correct as of the date of publication, but is not guaranteed by the author and may have been obtained by third-party sources. Due to the fluid nature of the subject matter, regulations, requirements and laws, prices and all other information may or may not be correct in the future and should be verified if cited, shared or otherwise republished.