Earth Advantage Brokers Have the Knowledge to Identify Green Features and Savvy Upgrades for their Clients
By Jeff Sorg, OnlineEd Blog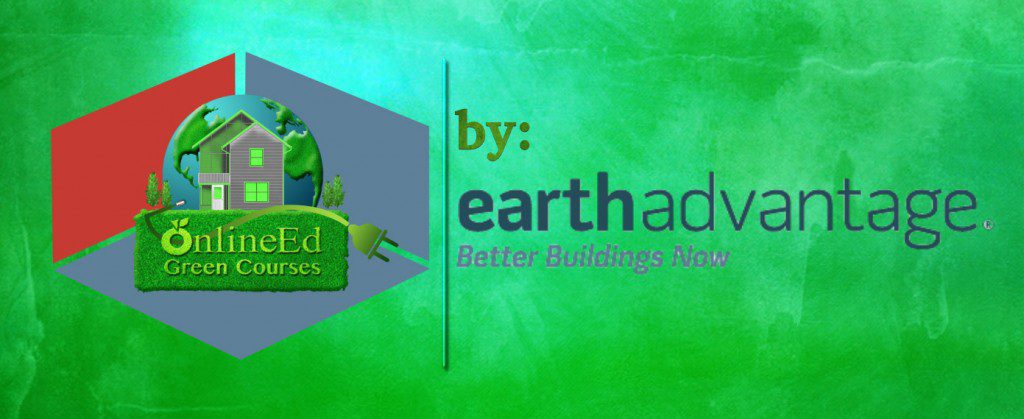 (June 17, 2016) –  OnlineEd announced today that it was chosen to deliver the online version of the Earth Advantage Broker (formerly S.T.A.R.) accreditation course for real estate professionals. The course, authored, designed and offered in live lecture format by Earth Advantage of Portland, OR is intended to give real estate professionals a competitive edge in communicating and marketing the benefits of green and high-performance home features in their market. Earth Advantage Brokers are armed with the knowledge to identify green features and recommend savvy upgrades in order to provide their clients with access to homes that provide a healthier living environment and greater energy, water, and resource efficiency.
The course will also help real estate professionals to:
Become a trusted advisor for their clients by learning to communicate the benefits of different green or high-efficiency products and features to meet client needs
Assist their clients with valuable resources and tips for upgrading a fixer-upper into a more efficient, comfortable, durable, healthy home
Share information with their clients on incentives, rebates, financing, and certifications
Market themselves as green-trained real estate professionals to attract like-minded customers and clients
The course outline:
Section A: What is Sustainability?
Section B: What is a Green Home?
Section C: Green Homes at a Tipping Point
Section D: Indoor Air Quality, Green Building Materials, and Water Efficiency
Section E: Energy Efficiency and Green Building Techniques
Section F: Green Building Certification, Energy Auditing, and Energy Labeling
Section G: Green Home Financing, Appraisal, and Marketing
Earth Advantage Broker Designation Final Exam
Accreditation – To earn the Earth Advantage Accreditation, real estate professionals will need to complete the 8-hour online course and pass the accreditation final exam. Earth Advantage provides marketing support for its accredited professionals in the form of logos and an online profile on its registry of professionals to help EA Brokers display and promote their green credential to consumers. Brokers must complete four credit hours in green real estate education every two years to maintain the accreditation.
The EA Broker course also satisfies the Energy Trust of Oregon's Real Estate Ally prerequisite requirement and the National Association of REALTORS® Green Designation 'Green 100' course requirements
Coursework – The accreditation course is made up of seven sections. Each section contains videos, follow-up activities, and five knowledge checks to help understand the topics presented in the videos. The course also provides a reference guide and additional green broker resources.
At the end of the course is a 35-question final exam in multiple-choice format with a passing score of 75%. The exam must be passed to earn real estate continuing education credit in Oregon and to receive the designation. After passing the final exam, within one week, Earth Advantage will issue an Earth Advantage Broker Accreditation certificate, along with logos and materials professionals can use to promote the benefits of their green designation.
For more information or to purchase the course, please visit OnlineEd.
###
For more information about OnlineEd and their education for real estate brokers, principal brokers, property managers, and mortgage brokers, visit www.OnlineEd.com.
All information contained in this posting is deemed correct as of the date of publication, but is not guaranteed by the author and may have been obtained from third-party sources. Due to the fluid nature of the subject matter, regulations, requirements and laws, prices and all other information may or may not be correct in the future and should be verified if cited, shared or otherwise republished.
OnlineEd® is a registered Trademark