Wheat-Colored Yellow kitchens bring more money than white kitchens
By Jeff Sorg, OnlineEd Blog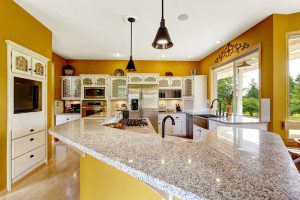 (June 23, 2016) –  A home's paint colors can have a notable impact on its final sale price. According to a new analysis from Zillow Digs, for-sale listings with rooms painted in sage green or wheat yellow can sell for as much as $1,300 more than expected.
Zillow Digs analyzed photos from nearly 50,000 sold homes from around the country to see how certain room type and paint color combinations impacted their sale price.
Of all the colors analyzed, homes with yellow kitchens, often in hues of creamy or wheat yellow, yielded the highest sale premium ($1,360 above expected values). Wall colors painted in other earthy tones like sage green or dove gray were also present in top-performing listings.
While everyone's style choices are different, there are some paint colors that could actually deter buyers. For example, homes with dark or style-specific wall colors, like slate gray or terracotta sold for as much as $1,100 less than expected. Lack of paint color could also have a negative impact on a home's sale price as those with white or eggshell-colored kitchens also sold below expectations.
"A fresh coat of paint is an easy and affordable way to improve a home's appearance before listing," says Svenja Gudell, Zillow chief economist. "However, to get the biggest bang for your buck, stick with colors that have mass appeal so you attract as many potential buyers to your listing as possible. Warm neutrals like yellow or light gray are stylish and clean, signaling that the home is well cared for, or that previous owners had an eye for design that may translate to other areas within the house."
Finding the perfect paint color can be time consuming and challenging. To help make this process easier, Zillow Digs, the Zillow® home improvement and design platform, launched a new tool on its iPhone® and iPad® apps that allows homeowners to virtually change a room's wall color using real paint swatches. Homeowners can upload a photo of their own home, or pull their home's image from a listing on Zillow to instantly see what a new paint color would look like in that space. Users can also create a custom paint palette, save and share the images, and even find where to buy that exact paint color in their area.
Room Type
Color
Color Description (what

this color looks like in homes) 

Effect (how

much more or

less the home sold for) 

Most Common Metro
Kitchen
Yellow
Creamy or wheat-colored yellow
$1,360
Portland, OR
Kitchen
White
Off-white or eggshell
-$82
Miami, FL
Bathroom
Tan
Oatmeal or beige
$283
Sacramento, CA
Bathroom
Brown
Dark brown
-$469
Phoenix, AZ
Bedroom
Green
Light green to khaki
$1,332
Houston, TX
Bedroom
Brown
Dark brown
-$236
Houston, TX
Dining Room
Purple
Mauve, eggplant or lavender
$1,122
Dallas, TX
Dining Room
Gray
Slate or dark gray
-$1,112
Washington, D.C.
Living Room
Gray
Dove or light gray
$1,104
Dallas, TX
Living Room
Orange
Terracotta
-$793
Baltimore, MD
###
For more information about OnlineEd and their education for real estate brokers, principal brokers, property managers, and mortgage brokers, visit www.OnlineEd.com.
All information contained in this posting is deemed correct as of the date of publication, but is not guaranteed by the author and may have been obtained from third-party sources. Due to the fluid nature of the subject matter, regulations, requirements and laws, prices and all other information may or may not be correct in the future and should be verified if cited, shared or otherwise republished.
OnlineEd® is a registered Trademark
Zillow Digs Zillow Digs® is a hub for home improvement and design inspiration. Users can browse millions of photos of interiors and exteriors of real homes, organized by space, style, cost and color. Product tags allow users to easily locate similar products and accessories as seen in their favorite photos, and patent-pending Digs Estimates help people understand what it would cost to recreate the actual bathrooms and kitchens they are viewing. In addition, Zillow Digs users can collect images, share favorites and follow others for inspiration, from the Zillow Digs® App for iPhone and iPad, or on the Web.
Zillow Zillow® is the leading real estate and rental marketplace dedicated to empowering consumers with data, inspiration and knowledge around the place they call home, and connecting them with the best local professionals who can help. Zillow serves the full lifecycle of owning and living in a home: buying, selling, renting, financing, remodeling and more. In addition to Zillow.com®, Zillow operates the most popular suite of mobile real estate apps, with more than two dozen apps across all major platforms. Launched in 2006, Zillow is owned and operated by Zillow Group (NASDAQ:Z and ZG) and headquartered in Seattle.
Zillow, Zillow.com and Zestimate are registered trademarks of Zillow, Inc.
iPhone and iPad are registered trademarks of Apple Inc.