More than a quarter of homes sold for more than their asking price
By Jeff Sorg, OnlineEd Blog
(June 15, 2017)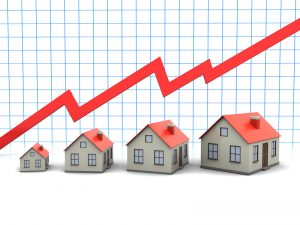 SEATTLE–(BUSINESS WIRE)– U.S. home prices rose 6.8 percent to a median sale price of $288,000 in May, according to Redfin (www.redfin.com), the next-generation real estate brokerage. Home sales increased 7.5 percent over last year, despite a long-standing shortage in the supply of homes. The number of homes for sale fell 10.9 percent, leaving just 2.7 months of supply, the lowest supply Redfin has recorded since we began tracking the market in 2010. Six months is generally considered a market balanced between buyers and sellers.
The typical home that sold in May went under contract in 37 days, breaking the previous record of 40 days set in April. More than a quarter of homes sold above their list price, the highest percentage Redfin has recorded. The median sale-to-list price ratio set another record, hitting 95.4 percent in May.
"There is still a lot of momentum in home prices in many metros, not only on the coasts but also in places like Buffalo, Grand Rapids and Omaha," said Redfin chief economist Nela Richardson. "Strong local economic growth and burgeoning demand from older millennials are accelerating home-price growth in this very competitive, low-inventory pre-summer market. The Federal Reserve's latest announcement to raise short-term rates will have very little effect on buyer demand or on the overall housing market. If anything, it may motivate buyers to make their purchases sooner rather than later."
In a Redfin-commissioned survey conducted last month, more than 1,000 homebuyers responded to a question about the effect a hypothetical rate hike above 5 percent would have on their home-buying plans. A quarter said it would have no impact, while nearly as many (23%) said they would increase their urgency to buy before rates went up further. Twenty-nine percent said they would slow down their search and see if rates came back down, 18 percent said their urgency wouldn't change, but they would look in other areas or buy a smaller home. Just 5 percent said they would cancel their home-buying plans altogether.
Regional May Highlights
Competition
Denver, CO, was the fastest market for the third month in a row, with nearly half of all homes pending sale in just 6 days. Seattle, WA, was the next fastest markets with 7 median days on market, followed by Grand Rapids, MI (8), Portland, OR (8), and Omaha, NE (9).
The most competitive market in May was San Jose, CA, where 74.1% of homes sold above list price, followed by 70.9% in Oakland, CA, 70.1% in San Francisco, CA, 64.1% in Seattle, WA, and 51.8% in Tacoma, WA.
Prices
Seattle, WA, had the nation's highest price growth, rising 15.9% since last year to $510,000. Lakeland, FL, had the second-highest growth at 15.1% year-over-year price growth, followed by Tampa, FL (13.2%), Memphis, TN (13%), and Manchester, NH (12.2%).
Two metros saw slight price declines in May including Albany, NY (-0.9%), and Baton Rouge, LA (-0.6%).
Sales
In 29 out of 89 metros, sales surged by double digits from last year. Poughkeepsie, NY, led the nation in year-over-year sales growth, up 44.4%, followed by Memphis, TN, up 40.2%. Philadelphia, PA, rounded out the top three with sales up 28.3% from a year ago.
Rochester, NY, had the largest decline in sales since last year, falling 14.3%. Home sales in Santa Rosa, CA, and Buffalo, NY, declined by 11.2% and 10.3%, respectively.
Inventory
Rochester, NY, had the largest decrease in overall inventory, falling 35.7% since last May. Buffalo, NY (-31.9%), San Jose, CA (-31.0%), and Seattle, WA (-27.1%), also had far fewer homes available on the market than a year ago.
Ogden, UT, had the highest increase in the number of homes for sale, up 41.4% year over year, followed by Provo, UT (34.9%), and Fort Myers, FL (27.3%).
To read the full report, complete with data and charts, please visit the following link: https://www.redfin.com/blog/2017/06/market-tracker-may-2017.html.
[Source: Redfin press release]
###
For more information about OnlineEd and their education for real estate brokers, principal brokers, property managers, and mortgage brokers visit www.OnlineEd.com.
All information contained in this posting is deemed correct as of the date of publication, but is not guaranteed by the author and may have been obtained from third-party sources. Due to the fluid nature of the subject matter, regulations, requirements and laws, prices and all other information may or may not be correct in the future and should be verified if cited, shared or otherwise republished.
OnlineEd® is a registered Trademark