Exposure to these compounds can have acute health effects on humans and their pets.
By Jeff Sorg, OnlineEd Blog
(July 20, 2017)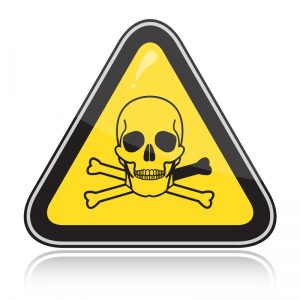 (PORTLAND, OR) Volatile organic compounds (VOCs) are emitted as gases from certain types of solids or liquids. A typical indoor environment may contain as many as 100 different compounds causing concentrations up to ten times higher indoors than outdoors.
Pesticides, cleaning agents, cosmetics, dry-cleaned clothing and fabrics, paints, varnishes, and waxes all contain organic solvents. All of these can release organic compounds while they are being used. Some can even release compounds while stored.
A common characteristic of all VOCs is that they will release gases into the atmosphere. These volatile compounds can be emitted as a gas for short or extended periods.
Exposure to VOCs can have acute or chronic health effects on humans and pets. Since the existing knowledge base of the toxicological effects of VOCs and their mixtures is incomplete, exposure to them should be minimized.
Two of the more common VOCs found in or about residential structures are formaldehyde and pesticides. As an example, let's take a look at formaldehyde-containing building materials:
Glues and adhesives
Urea-formaldehyde foam insulation (UFFI)
Pressed wood products (e.g., plywood, particleboard, paneling, and wood finishes)
Carpet
Laminated flooring materials
Cabinet fiberboards
Drapery materials
Used as a preservative in some paints and coating products
If the formaldehyde measurement levels are too high, further exposure to formaldehyde may be decreased by the following measures:
Use of exterior-grade pressed wood products. These products are lower emitting because they contain phenol resins and not urea resins.
Finding and removing the source is the most effective remedy, but is often unacceptable due to cost factors.
Avoid using building materials, furnishings, or other products that emit formaldehyde.
Increase ventilation after bringing new sources of formaldehyde into the home.
Use air conditioning and dehumidifiers to maintain moderate temperature and reduce humidity levels. The rate at which formaldehyde is released is accelerated by heat and may depend on the humidity levels present in the structure. Formaldehyde tends to double its level of off-gassing for every 10-degree Fahrenheit increase in temperature.
Use alternative products such as lumber, metal, or solid wood furniture and cabinets.
Avoid the use of foamed-in-place insulation materials containing formaldehyde.
Enclose unfinished pressed wood surfaces of furniture, cabinets, and shelving with laminate, a water-based sealant, polyurethane varnish, oil-based alkyd resin paint, or thick vinyl film.
If purchasing a mobile home, insist that outdoor air is capable of being circulated into the home. Mobile home sellers are required under HUD standards to give prospective buyers a ventilation improvement information sheet before a sales agreement is reached.
###
For more information about OnlineEd and their education for real estate brokers, principal brokers, property managers, and mortgage brokers visit www.OnlineEd.com.
All information contained in this posting is deemed correct as of the date of publication, but is not guaranteed by the author and may have been obtained from third-party sources. Due to the fluid nature of the subject matter, regulations, requirements and laws, prices and all other information may or may not be correct in the future and should be verified if cited, shared or otherwise republished.
OnlineEd® is a registered Trademark