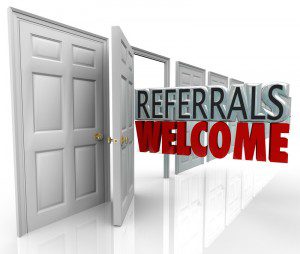 (Jeff Sorg, OnlineEd) – Referrals are the highest form of flattery. They are a gift to you from someone who thinks you are the best in the business, or at least very good at your job. Consider referrals as high-quality, warm leads introduced to you by your friends, clients, associates, family members, and others who want to help you succeed at your business. They also want the referral to have the best possible real estate buying or selling experience.
It's also important for you to know what to do after you receive the referral. Try these seven tips to convert the referral to a client.
Say "Thank You!" – The first thing you need to do is communicate your appreciation for the referral to the referrer. Do this by email, handwritten note, or telephone call.
Get introduced – During the thank you process, and be sure to ask the referrer to arrange an introduction or ask for permission to contact the referral directly. When contacting the referral directly, be sure to get permission from the referrer to also mention they referred you.
Investigate their needs – During the introduction process, proceed directly into asking the referral for their needs and wants. Listen carefully, don't interrupt, and ask questions if something is unclear.
 Drop the sales pitch – With a referral, your referrer has probably already given your sales pitch for you. Try to avoid launching into an overwhelming discussion of your achievements and what you will offer the referral. Only try to work these things into the ongoing introductory conversation and assume you have already earned their business.
Give them a reason to like you – Because a mutual friend introduced you; you will find that most of your referrals will already feel they know and like you. Don't let them down! Be sure to let your personality show through, show respect for your mutual friend, and remain professional.
Follow-up – Be sure to ask the referral if you have their permission to follow-up with the referrer. Also, take the time to mention you will be sending a note thanking them for the referral. You probably don't want to keep the referrer appraised of all the ongoing details since this would be a violation of confidentiality, but you certainly want to let them know you've made contact.
Work harder – Don't blow the referral by taking it for granted. Work your referrals harder than any other source of business. Because your failure will almost certainly get communicated back to the referrer, this could have devastating results for your referral network.
###
OnlineEd® is a provider of pre-licensing, post-licensing, and continuing education for real estate and mortgage licensees. For more information about OnlineEd, please visit www.OnlineEd.com.
OnlineEd® is a Registered Trademark