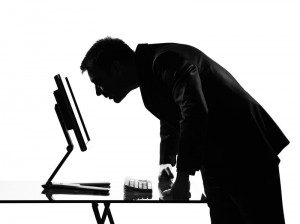 (Chris Culbertson, OnlineEd) – At OnlineEd we try to ensure every media format works on every device with an internet connection. We've tested our video and audio content extensively and while it works on all devices we've been able to test, that doesn't mean our video and audio content will work on all devices all of the time. This is a goal we are continually working towards, but if you are having difficulty getting videos or audio to play, here's a short guide that may help you out. And remember: if you're having problems with media playback, please let us know so that we can help you, and future students as well.
Tip #1: Update your web browser.
Updating your web browser to the latest version can help. Sometimes out-of-date web browsers can cause trouble when playing videos or audio files. If you're not sure what version of web browser you're using, or don't know if your browser is up to date, you can find out here. If your browser is out of date, you can follow the link above, or just click the links below for the most recent versions of common browsers.
Tip #2: Check your browser settings.
Resetting your browser settings can solve some problems. If you've turned your browser security settings up it may be blocking incoming media. Sometimes add-ons can interfere with media's ability to play. The easiest way to make sure it's not your browser's security is to restore defaults. We've tested the video and audio content and it should work on default browser settings. You'll find a quick walkthrough on how to reset your browser to its default settings here.
Tip #3: Update Adobe Flash
Downloading Adobe Flash may allow media to play properly. While Adobe Flash is not our primary delivery format it does act as a safety net in case other delivery formats are not functional. Please note that this will not work on mobile Apple devices such as the iPads or iPhone, as Adobe Flash is not compatible with IOS. You can download the latest version of Adobe Flash by clicking here.
Still not working? Here are some additional things you can do that may help.
Lowering firewall security settings. Sometimes Firewalls can block content before it even gets to your computer.

Installing an alternative browser. Even though we've tested our courses on all modern browsers, switching browsers can sometimes fix any issues you're having.

Switching devices entirely.

If you are using Windows 8, consider switching out of modern mode.
---
Thanks for reading this OnlineEd tip on how to get more out of your education and training! Stay tuned to our newsletters, as we'll bring you another of our tips and tricks next month!