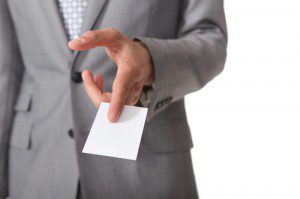 (Jeff Sorg, OnlineEd) – "It's nice to meet you! May I give you my business card?"  Knowing the proper way to treat and hand out your business card says a lot about you, the respect you have for yourself, and the person receiving your card. Always be courteous and ask permission before giving out your business card, and only give out your card to someone who asks for it or after you ask permission.
These tips for giving out business cards will also come in handy:
Always have your business cards on hand. Business card exchanges and business socializing can often take place at strange times and places.
Unless asked, don't hand out more than one card per contact.
Be courteous when offering your card. It's nicer to ask, May I give you my business card? rather than to say "Here, take my card!"
Attempt to limit distribution to qualified leads. Handing out 200 cards to everyone at a trade seminar is not going to be as productive as taking the time to find 10 qualified prospects at the same seminar.
Always give your card to someone who asks for it. When someone asks for your card, be polite and ask for their card in return. If the person you are giving your card to does not have a card of their own, offer two of your cards and ask them to write their contact information on the backside and return it to you.
Use a business card case that appropriately represents your professionalism and hand out only pristine cards; your card should adequately represent who you are and the pride you take in your profession.
Throw away all worn out cards that you've been carrying around. Keeping your cards in your billfold or floating around in your purse makes for a disorganized impression. It also gives the message that you don't take the business card exchange ritual seriously.
If appropriate, take the time to write a quick note on the card to help the recipient remember you, what you talked about, and why your card was given.
Don't slide your card across the conference table! When seated at a conference table, always try to stand up and hand your card to each individual as introductions are being made.
When in a group, if you offer one person a card, offer it to all who are present.
Just as relevant as giving out your business card is the art of receiving a business card. Here are some tips:
Always accept an offered business card.
If you give a card, ask for one in return.
Say Thank You! as soon the card touches your hand.
Look at the card for a few seconds as if digesting the information, and then offer a compliment about the card, font, logo or even the spelling of the giver's name.
Put the card in your business card case and don't disrespect the giver or their card by putting it in your back pocket or another place that says you don't really care it was given.
Follow up within one or two days from receiving a business card. Let the giver know you appreciated meeting them, your conversation, or information exchange.
Etiquette suggests that you to wait for individuals in a higher position than you to offer their card first (e.g., you wouldn't want to ask the CEO of a major company, your state senator, or the President of the United States for a personal business card).
Avoid having too much information on your business card and don't clutter it up with too many trade or professional designations that won't mean anything to the public. These are some tips to follow for printing business cards:
Use professional paper and printing.
Use a graphic designer or online business card templates to help you design your card.
Include your essential contact details such as your name, company name, email address, and telephone number.
Keep plenty of cards in stock and hand them out whenever appropriate.
Avoid trade designation initials that might confuse your prospects; ABR, SFR, GRI mean absolutely nothing to a potential real estate client. When wanting to impress others in your own profession by including your achievements, then use a separate business card.
Make sure your colors, font, and other information are all easily readable by business card scanners or when converted to different types of electronic format.
Your business card will maximize your chances to make qualified contacts. Remember, your card should represent you as a professional, communicate the way you think about yourself, and how you will conduct business with your clients.
Best practice: Don't skimp on your business card and keep it professional.
###
OnlineEd® is a provider of pre-licensing, post-licensing, and continuing education for real estate and mortgage licensees. For more information about OnlineEd, please visit www.OnlineEd.com.
OnlineEd® is a Registered Trademark.