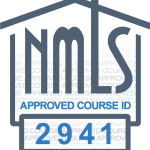 (Official NMLS Newsletter) – This is a reminder that the SAFE Act requires individual mortgage loan originators (MLOs) to complete 8 hours of NMLS approved continuing education (CE) annually. In addition to meeting the minimum federal requirements, a number of states also have state-specific education requirements that must be met. For details see State CE Requirement Chart.
A majority of state regulators will prevent an MLO from submitting an application for licensure renewal if they have not completed CE. Since it may take as long as 7 days for a course provider to report a course completion into NMLS, MLOs are strongly advised not to wait until a state agency's deadline to try to complete CE or they may be prevented from submitting for renewal on time.
CE Deadlines
It takes 24 hours for a course completion to be recognized in NMLS and for the system to recognize you are eligible for renewal.
Smart Deadline:  Course(s) reported to NMLS by Thurs, Dec 21
At Risk to Miss Renewal: Course(s) reported to NMLS by Fri, Dec 28
Guaranteed to Miss Renewal: Course(s) reported to NMLS Mon, Dec 31
The last day for technical or customer service support for on-time CE reporting is Friday, December 28.
###
Where to Get CE
NMLS education is available from www.OnlineEd.com. OnlineEd is NMLS provider number 1400327.