(Jeff Sorg, OnlineEd) –  Quicken Home Loans has released two new proprietary indexes the Quicken Loans Home Value Index (HVI), which takes the most accurate look at home value trends and the Quicken Loans Home Price Perception Index (HPPI), which measures the difference between appraisers' home value opinions and the opinions of homeowners and homebuyers across the country.
"Our position as a large and unique 50-state retail lender allows us to access this highly valuable data and create the Quicken Loans HVI and HPPI, which provides insight and perspective never seen before," explained Quicken Loans Chief Economist Bob Walters.
The HVI examines trends in home values by comparing current appraisals to where the local market was in January 2005, the start of the HVI. Through the HVI, homeowners, homebuyers and housing market analysts can get a real-time view of where home values are headed using real appraisal data from both refinances and home purchases.
Quicken Loans records refinancing homeowners' estimate of the value of their home at time of application, as well as the agreed upon purchase price of homebuyers and home sellers. The company then compiles and compares these home value estimates to the actual appraised values of the properties that are received a short time later in the mortgage process. The gap between these two values is presented in the HPPI.
"When you pair the HVI and HPPI, you get a glimpse into the housing market that has never been available before," Walters added. "You see the relationship that actual and perceived value play in the mortgage and housing industries, and how the human psyche influences the decisions consumers make when valuing their home. This information is extremely valuable to those looking to refinance, buy or sell a home, as well as many professional analysts and reporters who follow the U.S. housing markets."
Looking at the gap in home values as judged by homeowners and appraisers, it is clear to see just how significantly consumers overvalued their homes during the 2008/2009 downturn, one of the worst housing market in decades. This over-estimation of home values caused millions of mortgage applications industry wide to be restructured or denied.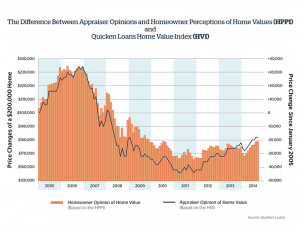 (click image to enlarge)
Additional graphics are available below as downloadable PDF documents.
###
For more information about OnlineEd and their education for real estate and mortgage brokers, visit www.OnlineEd.com.
  This article was published on October 24, 2014. All information contained in this posting is deemed correct and current as of this date, but is not guaranteed by the author and may have been obtained by third-party sources. Due to the fluid nature of the subject matter, regulations, requirements and laws, prices and all other information may or may not be correct in the future and should be verified if cited, shared or otherwise republished.