Follow Santa's Christmas Eve journey via the Official NORAD Santa Tracker from Santa's home details page on Zillow
By Jeff Sorg, OnlineEd Blog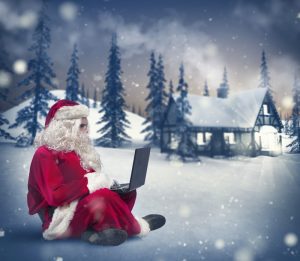 (November 30, 2016) –  Today, Zillow announces that one of the most famous homes in the world — Santa Claus' North Pole house — is now on Zillow.  With a Zestimate® home value of $656,957, Santa's home is one of the most valuable residential properties in the Arctic.
Zillow was able to calculate a special Zestimate value for Santa's one-of-a-kind house using comparable homes in remote locations and applying a Santa premium. The home has never been sold and is not on the market.
Santa Claus' log cabin has three bedrooms and two bathrooms and measures 2,500 square feet — about 1,000 square feet larger than the average U.S. home. It sits on a unique, 25-acre lot in the North Pole and features a river rock fireplace, a gourmet kitchen and a wood-burning stove in one of the guest suites. The property also boasts a sleigh parking garage, stables and a world-class toy workshop.
"Santa's home in the North Pole is one of the most famous homes in the world, so we're thrilled it's now on Zillow," said Zillow Chief Marketing Officer Jeremy Wacksman. "Millions of kids are looking forward to a visit from Santa this year, and now they have the opportunity to virtually visit Santa's house themselves."
To see Santa's home, type "Santa's house" into the search bar on Zillow.com. Visitors can flip through a photo gallery of the home and watch a video walkthrough to get a sense of the home's flow. Santa's house is not for sale, but by claiming his home, Santa was able to update his home's facts and add photos, which can impact his Zestimate value.
Additionally, children can start following Santa's Christmas Eve trek delivering presents around the world via the Official NORAD Santa Tracker, right from Santa's home detail page on Zillow. This feature is a result of Zillow's partnership with NORAD Tracks Santa, which has been following Santa's annual journey for the past 61 years.
"We track Santa as he makes his journey around the world every holiday season and ensures he returns home safely," said Preston Schlachter, spokesperson for NORAD Tracks Santa. "Santa puts a lot of miles on his sleigh delivering gifts all over the country, and we're excited to partner with Zillow this holiday season to give families around the world a behind the scenes look at Santa's home base."
Zillow forecasts that Santa's home will appreciate 2.2 percent over the next year, in line with forecasted home value growth in the United States.
###
Zillow and Zestimate are registered trademarks of Zillow, Inc.
For more information about OnlineEd and their education for real estate brokers, principal brokers, property managers, and mortgage brokers, visit www.OnlineEd.com.
All information contained in this posting is deemed correct as of the date of publication, but is not guaranteed by the author and may have been obtained from third-party sources. Due to the fluid nature of the subject matter, regulations, requirements and laws, prices and all other information may or may not be correct in the future and should be verified if cited, shared or otherwise republished.
OnlineEd® is a registered Trademark