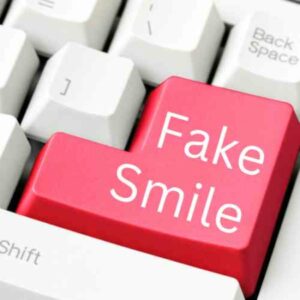 The art of passive aggression fuels the business world, and the real estate industry is no exception. To be an effective real estate agent, the more stressed you are, the more you need to make your client feel comfortable and relaxed. Perhaps you'd like to say "You think I can sell this dumpster fire for $1.5 million??? Are you out of your mind??" As great as saying this would feel, it's not the ideal way to begin your listing presentation. Even a more subtle response that doesn't entirely mask your frustration could backfire, for example, "That list price is definitely achievable if you can invest $800,000 in renovations. Instead, let's consider a lot of different price points, perhaps starting with $150,000…."

In real estate, it's usually best to be extremely polite, because you never know whom you're going to need something from in the future, and this industry runs on reputation. That buyer's agent who blew up your phone with constant, uninformed questions about your listing? Guess what, they're the seller's agent on your next transaction; you need a lot of information from them, and you need it fast.

Learning how to appear relaxed and open while guiding clients and coworkers in the right direction is a fine art, and if you're good at real estate, you've probably mastered this. That said, wouldn't it be great if you could save time and emotional energy by having someone else take over your body and have these delicate conversations for you? This is where ChatGPT can be surprisingly helpful with all the emotionally charged, time-sensitive email and text communication that powers this industry, and do it far better than most of us humans.

If you've ever been advised to wait a day before sending an angry email, you know that you don't have that kind of time to relax and do breath work before each outgoing message. Imagine that you found your client an absolutely perfect property that checks all of their boxes, is priced far below market, and you think they're going to write an offer. Your client texts you saying "We don't want to just buy one of the first houses we find, and feel that if this house exists at this price, we'll probably be able to find many like it." You'd like to say "Sweetheart, that's absolutely not going to happen. You're going to look at 20 overpriced properties, get angry you didn't purchase this one, and that's 150% guaranteed."

Instead of screaming this into your iMessage, tell ChatGPT to come up with a thoughtful response, and then just cut-and-paste it into your text app, with a bit of appropriate editing. For example, I just told ChatGPT to, "In a polite way, tell my client they need to stop wasting their time and just buy this house already because they will literally never find a deal this good in this market and it's exactly what they're looking for." ChatGPT wrote

I wanted to share my thoughts on this property, if I may. Given the highly competitive nature of the market, opportunities like this can be rare. This property not only meets but exceeds your criteria, and the price is truly remarkable considering the location. In my experience, it's not often that we come across such a well-suited property at such an attractive price. While I understand that making a decision on a home can be challenging, I would like to gently encourage you to consider moving forward with this property. Please don't hesitate to reach out if you have questions or concerns, or if you'd like to discuss this further. I am here to help and always have your best interests in mind.

Love,

ChatGPT 4

Well, it didn't write "Love, ChatGPT 4," but the rest of this is a genuinely artificial response. I think it's pretty good, given the situation. All you have to do is tweak it to make it more plausible and sound less like AI, and you've just saved yourself from having to spend a ton of time trying to relax and write something balanced and thoughtful.

Additionally, if you're not using ChatGPT to write listing descriptions, you are absolutely wasting your life. It takes me far longer than it should just to write something like "Come home to your charming bungalow, right in the heart of cozy Ladd's Addition." Terrifyingly, all I had to tell ChatGPT was "Write me a short property description advertising a cozy little house in Ladd's Addition" and the bot gave me a delightful description with local details I didn't even provide. What's absolutely frightening about its response is how specific it feels, without being really specific at all. In fact, this wildly vague description works for 75% of bungalows in Ladd's Addition, but it feels unique and special, somehow. I'm terrified, but I'm also exhausted, so I'm just going to cut-and-paste this into the MLS and be on my way. I'll conclude by letting ChatGPT speak for itself (or for me, I guess, since it's now my voice):

Nestled in the heart of the idyllic Ladd's Addition, this delightful 2-bedroom, 1-bath bungalow is the epitome of cozy living. Brimming with character and charm, this lovingly maintained home boasts hardwood floors, an abundance of natural light, and a warm, inviting atmosphere that instantly makes you feel at home.
As you step inside, the inviting living room welcomes you with its classic fireplace and beautiful built-in shelves. The efficiently designed kitchen is adorned with timeless cabinetry and modern appliances, offering the perfect space for creating culinary masterpieces. Both bedrooms are generously sized, providing serene retreats for rest and relaxation.

The private, fenced backyard is a lush oasis with a quaint patio, perfect for enjoying Portland's beautiful summer evenings. This enchanting property is just a short stroll from the iconic rose gardens, delightful neighborhood cafes, and the vibrant shops of Division Street and Hawthorne Boulevard.
Don't miss this rare opportunity to own a piece of Ladd's Addition history, and experience the unrivaled charm of this cozy sanctuary. Schedule a private showing today, and fall in love with your new home.