(OnlineEd® – Portland, OR) The Conference of State Bank Supervisors (CSBS)  today announced that an additional 10 state mortgage loan originator licensing agencies will begin using the National SAFE MLO test. This brings the total number of state agencies to 30 who are using the test.  The test was first made available on April 1, 2013, and combines both the national and state testing requirements of the SAFE Act. Because the new test replaces the separate, state-specific test for the states who adopt it, it streamlines the process for mortgage originators who want to hold multiple state licenses.  Any mortgage loan originator who passes the test is compliant with the SAFE Act testing requirements in all thirty states. For a limited time, between April 1, 2013 and March 31, 2014, there is also the short version, stand-alone UST available for anyone who has previously passed the retired national test.
Twenty state agencies initially adopted the National SAFE MLO test in April, and an additional 10 state agencies will adopt it today.  These 10 state agencies are:
• The Alabama State Banking Department;
• The Alaska Division of Banking and Securities;
• The Indiana Office of Secretary of State;
• The Kansas Office of the State Bank Commissioner;
• The Montana Division of Banking and Financial Institutions;
• The Nebraska Department of Banking and Finance;
• The New Jersey Department of Banking and Insurance;
• The Tennessee Department of Financial Institutions;
• The Vermont Department of Financial Regulation; and
• The Wyoming Division of Banking.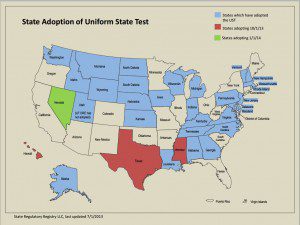 An additional five state agencies are scheduled to adopt the test by Jan. 2014.
More information on the National SAFE MLO test is available here.
#  #  #
About CSBS:


The Conference of State Bank Supervisors (CSBS) is the nationwide organization of banking regulators from all 50 states, the District of Columbia, Guam, Puerto Rico, and the U.S. Virgin Islands.

OnlineEd is a provider of mortgage and real estate broker pre-licensing and continuing education courses, as well as the developer of  InlineEd, an education and compliance management software for the mortgage industry.  For more information about OnlineEd please visit www.OnlineEd.com. For more information about InlineEd, please visit www.InlineEd.com.