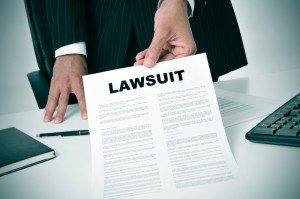 (Jeff Sorg, OnlineEd)  – Virginia Attorney General Mark R. Herring today announced a historic lawsuit against some of the largest commercial banks in the world for fraud committed against Virginia taxpayers during the height of the real estate bubble. A lawsuit unsealed today in Richmond Circuit Court seeks $1.15 billion in damages against thirteen banks that are each accused of fraudulently misleading the Virginia Retirement System (VRS) during the sale of residential mortgage-backed securities (RMBS) to the state retirement fund.
Each bank is alleged to have bundled risky residential mortgages into securities which were then sold to VRS in various quantities. The named banks are:
Barclays Capital Inc.
Citigroup Global Markets Inc.
Countrywide Securities Corporation
Credit Suisse Securities (USA) LLC
Deutsche Bank Securities Inc.
Goldman, Sachs & Co.
RBS Securities, Inc.
HSBC Securities (USA) Inc.
Morgan Stanley & Co. LLC
UBS Securities LLC
WAMU Capital Corp.
J.P. Morgan Securities LLC (and as current owner of Bear, Stearns & Co.)
Merrill Lynch, Pierce, Fenner & Smith Incorporated(and as current owner of Banc of America Securities LLC)
An analysis shows that nearly 40% of the 785,000 mortgages backing 220 securities purchased by Virginia's retirement system were fraudulently misrepresented in a way that made them a significantly higher risk for default. These banks knew, or should have known, that claims they made about the quality of the mortgages were false, but they systematically disregarded and hid their own evaluations, and third-party evaluations, that revealed just how risky these securities were.
The banks misrepresented the underlying mortgages in the following ways:
1. Misrepresenting the loan-to-value ratio of mortgages– A higher loan-to-value ratio significantly raises the risk of default. Across all banks, it was claimed that only 23.4% of loans were for more than 80% of the value of the property, when in reality, it was 54%. Additionally, 15% of homes were underwater, with mortgages that exceeded the value of the home.
2. Misrepresenting the owner occupancy rate of the homes–Borrowers are more likely to default on a home they do not occupy, such as a vacation home or rental property.
3. Misrepresenting the percentage of homes with a second mortgage–This is a major risk factor for default because borrowers with second loans tend to have fewer assets relative to the amount they have mortgaged.
Hundreds of securities that were offered at AAA or similarly high ratings with a 0.00% mortgage delinquency rate were eventually downgraded significantly as delinquency rates of the mortgages skyrocketed, in some cases as high as 75%.
While the losses to the Virginia Retirement System are estimated at $383 million, the law allows Virginia to seek "treble damages," or three times the actual damage, as compensation and to deter this kind of conduct. It is expected that money recovered as part of this suit will be returned to Virginia taxpayers and that damages suffered by VRS will be redressed.
###
  This article was published on September 19, 2014. All information contained in this posting is deemed correct and current as of this date, but is not guaranteed by the author and may have been obtained by third-party sources. Due to the fluid nature of the subject matter, regulations, requirements and laws, prices and all other information may or may not be correct in the future and should be verified if cited, shared or otherwise republished.
For more information about OnlineEd and their education for real estate and mortgage brokers, visit www.OnlineEd.com.