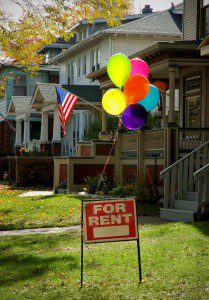 (Jeff Sorg, OnlineEd) – The typical property manager is responsible for a number of activities for the property owner. The scope of work that a property manager is responsible for is defined in the property management agreement, which is entered into between the property manager and the property owner.
Depending on the scope of the property management agreement, the types of activities a property manager may be engaged in are the following:
Rent – A property manager sets the rental rate based upon current market conditions and then adjusts rents as market conditions change. The property manager also is responsible for the collection of rents. Rents are very important to cash flow and as a result enforcing rent payment due dates, collecting required late fees, and evicting tenants who are delinquent are all very important to the efficient management and operation of a property.
Procurement and management of tenants – This area of responsibility involves the marketing of a property in order that tenants are attracted to the property. Once a prospective tenant is identified and makes application to rent, then the property manager is responsible for screening the tenant to ensure that the tenant meets the property's rental qualification criteria. If the tenant is qualified to rent the property, then the lease or rental agreements must be prepared for the tenant. Once the tenant occupies the property, the property manager is responsible for the handling of the day-to-day issues that may arise with regard to that tenant. These issues range from the handling of complaints and emergencies, dealing with tenant move-outs, and when necessary, tenant evictions. All of these activities if they relate to residential property require the property manager to be acquainted with Landlord Tenant Law in order to ensure that the property manager is in compliance with these laws at all times.
Repair and maintenance of a property – This really involves three distinct activities. The first deals with repairs that must be made as the need arises. Repairs may relate to plumbing, mechanical, electrical and mechanical systems or any other component of a property that is necessary for its operation. The second area involves routine maintenance such as landscaping and ground maintenance. The third are deals with preventative maintenance such as exterior repaints or roof replacements. These types of preventative maintenance are necessary to prevent damage to the structure.
Record maintenance and financial performance of the property – The record keeping function involves keeping required and adequate records relating to the operation of the property. Included in the list of records to be maintained are income and expense accounting records, rental and lease agreements, unit inspection reports, individual tenant records including complaints and repair requests, and documentation of expenses incurred on behalf of the property. The property manager is also responsible for development of annual operation budgets that address both daily operational needs and reserves for future improvements or component replacements.
Supervision of employees – The operation of many properties requires employees to perform a number of functions, such as office personnel, onsite managers, security, concierge services, and onsite maintenance. All of these employees must be properly supervised and all of the applicable employment and employee tax law must be complied with.
Tax related issues – The property manager is responsible to ensure that all employee tax laws are complied with along with municipal and state tax laws and property tax requirements. In addition, a property manager may also be responsible for assistance in providing work papers to assist in the filing of local, state, and federal income taxes or business licenses.
If you are interested in getting a property manager license, please view our post How to Get an Oregon Property Manager License.
For information about activities requiring an Oregon property manager license, please visit our post, Activities Requiring an Oregon Property Manager License.
###
 For more information about OnlineEd and their education for real estate and mortgage brokers, visit www.OnlineEd.com.
  This article was published on October 31, 2014. All information contained in this posting is deemed correct and current as of this date, but is not guaranteed by the author and may have been obtained by third-party sources. Due to the fluid nature of the subject matter, regulations, requirements and laws, prices and all other information may or may not be correct in the future and should be verified if cited, shared or otherwise republished.