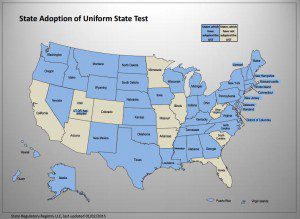 (Jeff Sorg – OnlineEd) – The Conference of State Bank Supervisors (CSBS) has announced that the Oregon Department of Finance and Corporate Securities (DFCS) began using the National SAFE Mortgage Loan Originator (MLO) Test with Uniform State Content. This brings the total number of state agencies using the test to 46.
The Oregon DFCS regulates both bank and non-bank mortgage lending and is responsible for licensing individual MLOs employed by lenders and mortgage brokers who take loan applications or negotiate terms of residential mortgage loans with prospective homeowners.
The test, which was first made available on April 1, 2013, combines both the national and state testing requirements of the SAFE Act and streamlines the license application process for MLOs seeking licenses in multiple states. For these adopting states, the new test replaces the separate, state-specific tests.
Since its release on April 1, 2013, more than 42,000 MLO applicants have taken the National SAFE MLO test with Uniform State Content.
###
For more information about OnlineEd and their education for real estate brokers, principal brokers, property managers, and mortgage brokers, visit www.OnlineEd.com.
  This article was published on January 12, 2014. All information contained in this posting is deemed correct and current as of this date, but is not guaranteed by the author and may have been obtained by third-party sources. Due to the fluid nature of the subject matter, regulations, requirements and laws, prices and all other information may or may not be correct in the future and should be verified if cited, shared or otherwise republished.