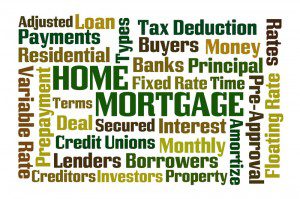 Shopping for a mortgage can be overwhelming! Here's some basic advice and a free source to help you understand the process.

(Jeff Sorg, OnlineEd) –
Shopping around for a mortgage takes time and energy, but it can save you thousands of dollars. The Consumer Financial Protection Bureau, also known as the CFPB, recommends that you compare loan offers from at least three different lenders.
The Internet and newspapers are a good place to start this search for banks, credit unions, mortgage lenders and mortgage bankers. If you work with a real estate agent, you'll also want to ask him or her for a recommendation.
After you've selected some lenders, you will want to ask them each to issue you a loan "pre-approval." Pre-approval means that the lender takes a look at your finances and estimates how much you should be able to borrow, and at what interest rate. These pre-approvals will let you see what kind of loan prices each lender offers so you can compare them. You'll want to get all of your approvals within 45 days, so as not to impact your credit score with spread out credit report requests. Lenders should not charge your for a pre-approval and issue them in hopes of securing your business.
In general, the longer it takes to repay your loan, the lower your loan payment. Most buyers choose a 30-year loan, since payments are lower; for a 15-year loan payments are typically higher than for the 30-year, but your loan is paid off in 15 years, thereby avoiding the extra interest paid for a 30-year loan. While not very common, some lenders may offer other lengths, like 20-years, 7-years , or even longer than 30-years.
Loans also come with fixed or adjustable interest rates. With a fixed-rate, your interest and monthly payment will stay the same for the entire life of the loan. With the adjustable rate, your interest rate is usually fixed for the first few years of the loan, but once this fixed rate period expires, the rate will adjust at regular, predetermined intervals based on the market. This means you will need to be prepared for your payment amount to increase. Your interest rate details will be included with the information you will receive from your lender.
There are also many different types of loan programs for different circumstances and groups. If you will make a down payment of 5% or more, ask about Fannie Mae or Freddie Mac eligible loans. These are commonly called "conventional" loans. If you are making a less than 5% down payment, check into the FHA insured loan; if you are a Veteran, you might qualify for a VA-guaranteed loan; when buying rural property, you and your purchase might qualify for a USDA sponsored loan product; and if you are a first-time home buyer with low to moderate income, there might be loans available through various state programs.
After you've decided on your lenders for pre-approvals and your loan type, it's time to compare your loan offers. You'll want to first start by comparing the basics of the loan, such as time to repay, interest rate, down payment amount, and monthly payment amount. For the adjustable rate, are the payment adjustments and interest rate capped or floating and will the interest rate go down if the market interest rate drops.
Next, you can compare the rest of the details that will affect your overall cost. Some of the things you'll want to know will be when your payments will pay off the principal amount of the loan; does the payment include property taxes and insurance or will you pay those separately; will you be paying upfront fees/points that reduce the interest rate; and what fees and costs are included in the amount you are borrowing.
Shopping for a mortgage can be overwhelming, at first. But once you get used to the process, you'll be able to recognize differences between lenders. If you get overwhelmed by the process or would just like to educate yourself, you can also receive free help about shopping for a mortgage by calling the Consumer Financial Protection Bureau at 1-855-411-CFPB and speaking with a representative who can connect you to a HUD-approved housing counselor.
 ###
For more information about OnlineEd and their education for real estate brokers, principal brokers, property managers, and mortgage brokers, visit www.OnlineEd.com.
  This article was published on July 1, 2015. All information contained in this posting is deemed correct and current as of this date, but is not guaranteed by the author and may have been obtained by third-party sources. Due to the fluid nature of the subject matter, regulations, requirements and laws, prices and all other information may or may not be correct in the future and should be verified if cited, shared or otherwise republished.