Portland and Seattle have declared states of emergency in response to the number of people experiencing homelessness
By Jeff Sorg, OnlineEd Blog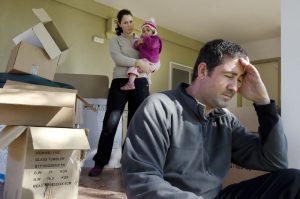 (PORTLAND, Aug. 3, 2017/Zillow®/) Rising rents urban areas are creating crisis levels of homelessness that will continue or accelerate as rents rise, Zillow® research has found. The connection between homelessness and increasing rents is especially strong in places that are already facing rapidly growing homeless populations: New York, Los Angeles, Washington, D.C. and Seattle.
A five percent increase in New York rents over the next year would force almost 3,000 more people into homelessness, according to a new analysis from Zillow. In Los Angeles, the homeless population would grow by roughly 2,000, and Seattle would see its homeless population increase by nearly 260.
Relying solely on the number of homeless people counted during a one-night survey is an imperfect method. Previous research has found that as few as 59 percent of unsheltered homeless people are included in a given count.
Rents are at record highs across the country, and income growth did not keep pace as rents grew, making paying the rent increasingly unaffordable. Seattle and Portland, Ore. have declared states of emergency in response to the number of people experiencing homelessness. The median rent payment in Los Angeles requires 49 percent of the typical household income, leaving little opportunity to save in case of an unexpected medical bill, or loss of a job – events which could push a family into homelessness.
"We've seen so much pressure in rental housing markets that it's created a rental affordability crisis that has spilled over into a homelessness crisis at lower income levels," said Zillow Senior Economist Dr. Skylar Olsen. "Often, the rental demand in these markets isn't being met with a sufficient supply. There are several cities grappling with this problem, but there is no one-size-fits-all solution for everyone. This report puts a number on the link between rising rents and homelessness, highlighting the very real human impact that rent increases are having across the country."
[Source: Zillow press release]
###
For more information about OnlineEd and their education for real estate brokers, principal brokers, property managers, and mortgage brokers visit www.OnlineEd.com.
All information contained in this posting is deemed correct as of the date of publication, but is not guaranteed by the author and may have been obtained from third-party sources. Due to the fluid nature of the subject matter, regulations, requirements and laws, prices and all other information may or may not be correct in the future and should be verified if cited, shared or otherwise republished.
OnlineEd® is a registered Trademark