CFPB Takes Action Against Settlement Services Provider for Steering Consumers to Affiliated Business
By Jeff Sorg, OnlineEd Blog
(October 2, 2017)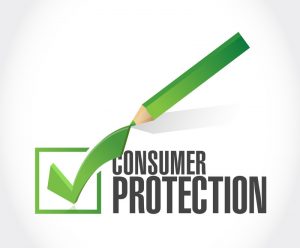 The Consumer Financial Protection Bureau (CFPB) took action against real estate settlement services provider Meridian Title Corporation for steering consumers to a title insurer owned in part by several of its executives without making disclosures about the businesses' affiliation. The CFPB found that Meridian failed to disclose its relationship with the title insurer and illegally benefitted from the referrals for title insurance—which is usually required in real estate purchases involving a mortgage loan. Under today's consent order, the CFPB is ordering Meridian to ensure that it ceases the illegal practice, provide disclosures whenever it makes a covered referral, and pay up to $1.25 million in redress to consumers.
"Meridian Title illegally steered consumers into purchasing a product from an affiliated company to add to its bottom line," said CFPB Director Richard Cordray. "We're ordering it to halt this practice and pay up to $1.25 million to consumers who were harmed."
Meridian Title Corporation is a real estate settlement agent and title insurance agency headquartered in South Bend, Indiana. As a settlement agent, Meridian provides real estate settlement services and conducts loan closings in connection with residential real estate transactions. Lenders normally require title insurance to protect their interests when providing a mortgage loan in the event someone else can collect on a lien or there are back taxes owed on the property. Consumers are normally able to select the title insurance provider during the home-buying process, as long as the title insurance policy complies with lender requirements. As a title insurance agent, Meridian receives orders for title insurance policies from lenders and real estate agents, and in some cases directly from consumers, and assigns those orders to title insurance underwriters.
The CFPB found that Meridian routinely selected Arsenal Insurance Corporation, a company owned in part by three of Meridian's own executives, as the title insurance underwriter for its customers. When it selected Arsenal, the CFPB found that Meridian was able to keep extra money beyond the commission it would normally have been entitled to collect, based on an understanding that Meridian would select Arsenal as underwriter. A company like Meridian that receives anything of value pursuant to an agreement or understanding that business will be referred to an affiliated business like Arsenal must generally disclose its relationship to the consumer in question, among other conditions, in order to avoid a violation of the Real Estate Settlement Procedures Act. In its investigation, the CFPB found that Meridian failed to make the necessary disclosures to more than 7,000 consumers when it selected Arsenal to provide title insurance and also did not satisfy other conditions for avoiding a violation of the law.
Enforcement Action
Under the Dodd-Frank Wall Street Reform and Consumer Protection Act, the CFPB has the authority to take action against institutions or individuals violating consumer financial laws, including engaging in unfair, deceptive, or abusive acts or practices. The CFPB's order requires Meridian to:
Pay up to $1.25 million to harmed consumers: Under the order, Meridian is required to pay up to $1.25 million in redress to consumers who were referred to and purchased title insurance from Arsenal but did not receive appropriate disclosures.
Stop violating the law and start providing disclosures: Meridian must not violate the Real Estate Settlement Procedures Act and must implement policies and procedures to ensure it properly discloses to consumers whenever it makes an applicable referral.
A copy of the consent order filed today is available at: http://files.consumerfinance.gov/f/documents/201709_cfpb_meridian-title-corp_consent-order.pdf
[Source: CFPB press release]
###
For more information about OnlineEd and their education for real estate brokers, principal brokers, property managers, and mortgage brokers visit www.OnlineEd.com.
All information contained in this posting is deemed correct as of the date of publication, but is not guaranteed by the author and may have been obtained from third-party sources. Due to the fluid nature of the subject matter, regulations, requirements and laws, prices and all other information may or may not be correct in the future and should be verified if cited, shared or otherwise republished.
OnlineEd® is a registered Trademark