Across the country, thirty percent of adults live with a roommate or parent.
By Jeff Sorg, OnlineEd Blog
(January 2, 2018)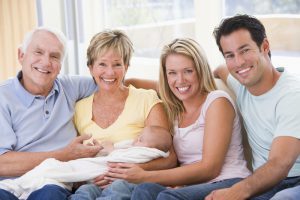 (SEATTLE) /PRNewswire/  — Nationally, nearly one in three adults live with a roommate or parent, the greatest share ever reported, according to a new Zillow® analysis. As rental affordability deteriorates, more U.S. adults may be choosing double up in order to cut costs.
A doubled-up household is where two or more working-aged adults live together but aren't married or in a relationship — this could mean two millennial roommates or an adult living with parents. The share of doubled-up households has been steadily rising since the late 1990s, when just 23 percent of adults lived together.
The rise in doubled-up households coincides with increasingly unaffordable rental prices nationwide. Americans making the national median income should expect to put about 30 percent of their monthly income toward a rental payment, but in some markets the share is even greater. In Los Angeles, renters spend almost half of their monthly income on rent. In San Francisco, renters spend 42 percent of their income on rent each month.
"As rents have outpaced incomes, living alone is no longer an option for many working-aged adults," said Zillow senior economist Aaron Terrazas. "By sharing a home with roommates — or in some cases, with adult parents — working adults are able to afford to live in more desirable neighborhoods without shouldering the full cost alone. But this phenomenon is not limited to expensive cities. The share of adults living with roommates has been on the rise in historically more affordable rental markets as well. Unless current dynamics shift and income growth exceeds rent growth for a sustained period of time, this trend is unlikely to change."
Metros with the greatest share of adults doubling up also have some of the most expensive rents. In Los Angeles, almost 50 percent of adults live with a roommate or adult parent, the highest share of all markets analyzed. Los Angeles is the third most expensive rental market in the nation, with the median rent at $2,720per month.
Riverside, Calif. and Miami metros also have a high percentage of doubled-up households. In Riverside, almost 45 percent of adults are doubled up, along with 41 percent in Miami. Both metros are among the seven most expensive rental markets when ranked by the share of income going toward the typical rent payment.
When renters decide to move to a new place, a recent rent increase was likely the catalyst, according to the 2017 Zillow Group Consumer Housing Trends Report. Almost 80 percent of renters who moved from a previous rental experienced a rent increase before moving. And when renters start searching for a new place to live, 77 percent indicate that the rental being within their price range is a top requirement.
[Source: Zillow press release]
###
Zillow is a registered trademark of Zillow, Inc.
For more information about OnlineEd and their education for real estate brokers, principal brokers, property managers, and mortgage brokers visit www.OnlineEd.com.
All information contained in this posting is deemed correct as of the date of publication, but is not guaranteed by the author and may have been obtained from third-party sources. Due to the fluid nature of the subject matter, regulations, requirements and laws, prices and all other information may or may not be correct in the future and should be verified if cited, shared or otherwise republished.
OnlineEd® is a registered Trademark